Mall Bridesmaids Dress + A Wedding Dress
February 1, 2010
Or just dresses for your self as they were.
I am quite smitten with this little sundress from (of all places) the high school staple American Eagle Outfitters. I think it is a little silly priced at $60 but if you wait like two seconds (or two months) they are probably going to go on sale. I think navy is going to be the new gray in terms of wedding color staples. Though they have rather fetching version of this in what they call "Wild Watermelon" and I call, pink and salmon but you go check it out and tell me what you think.
Banana Republic's Heritage collection is a great source in my opinion. If you ignore those white?grey? booties for a second (If at all possible. It is rather distracting though isn't it? Who is their stylist?), tie on a wide velvet ribbon sash around the waist (if you are feeling particularly trendy you can even pin a flower corsage to the belt though I think that might be a little overboard. Simplicity is most elegant I think) and you have a pretty bridesmaids dress in the grey for $110 and probably better made than anything you might find at Alfred's or David's.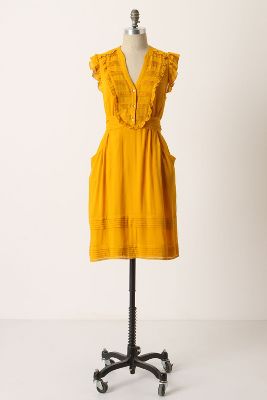 My life post would not be complete without at least one addition from Anthropologie. This sunny yellow dress at $100? Perfect for a summer soiree (did I just type that word? Yes I did. Now I go tumbling down the steep slope of bridal uppity-ness and normal brides will never visit my blog again. Oh woe is me! It was a slip of the tongue, I promise! Been reading far too many design blogs for my own good.
Shockingly this slate gray is not from The Crew it is from Ann Taylor Loft are you as shocked as I am? At half the usual price you might pay san sale at J.Crew too at $80. I know, I am quite impressed. Not really wedding usual. But maybe a bright cardi in your colors. My colors are navy and blush so there would be a pale pink cardigan on every shoulder like the proper Dallas-ite I am. Oh and pearls. Lets not forget the pearls. With bouquets of baby breaths with pale silk ribbons? Style is priceless not pricey. Just style it up
All of them lovely, no? I am of the camp that being around other beautiful people makes you look more beautiful. Hence, why all my bridesmaids are so amazing.
I saved the best for last. A wedding dress.
If you didn't know any better would have not thought that dress above was from the Crew? Well, I have news for you. It is not. It is by Ann Taylor. And it is a whopping $500. You read that right. Even their styling is ripped straight off the Crew. Normally the artist integrity bell would start going off in my head but seriously, in this case, in the overpriced bridal industry, I say "go for it" and may the best dog win. It can only turn out for the best for us consumers! Their bridesmaids dresses could be better priced me thinks at like $215 a pop I think they are still a little steep for what they are but $500 for a wedding dress? I cannot get over that! Someone go try it on for me and tell me what the quality is like.
Ever thought about getting your bridesmaids dresses from the mall?
Pictures taken from their sources: American Eagle, Banana Republic, Anthropologie, Ann Taylor Loft, Ann Taylor. Happy hunting, ladies.