Dropping The Ball
March 4, 2010
So some people have green weddings. Some people have local weddings. Cory and I made a concious decision to be a small-business owner friendly wedding. What that meant to us was we decided to only play with small business owners. Why? Because small business owners need loving too.  However, we dropped the ball a couple of times and in the interest of accountability, I have decided to tell international blogsphere when and how. And then you can say, "Shame, shame, Jesselyn, how dare you?" and I can say, "I am sorry. I didn't mean to". I pout. You give in. You forgive me. And we move on with our life. See? Or you can choose not to forgive me. It is fine. But you know you want to.
One: So I am a loser and bought an awesome fascinator from Bat Cakes Couture (see, my intentions were good!). Well, the post office has hostage of it which, like an idiot, I only remembered the night before. F- me, right? I was going to take my veil off after the ceremony and I decided I couldn't, just couldn't, flipping have a good time at my reception unless I had something in my hair. So what do I do? My first reaction was to cry. But would that help me on my wedding day? No, just give me puffy eyes and a red nose. So unfortunately, it is on to my only option: Anthropologie. Where I pick this little baby up: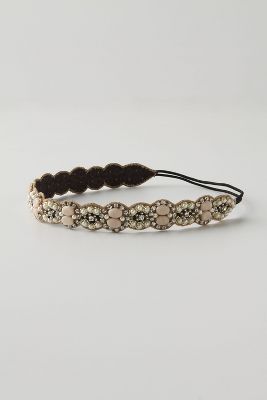 So, I should be sorry… but, I am not because it is a fabulous headband and it came in an adorable gorgeous linen floral bag. You all know how much I love great packaging and lovely superficial crap like that. Can I get a free pass on this one?
Two: My awesome hooker shoes from Nordstorm Rack. I really have no excuse for this one. Wait. I do. Where the crap do you find shoes that are: affordable, pretty, and a size five? Where is not at a small business and trust me, I tried: Ebay, vintage stores, Ebay, well, that is it really. Does Zappos count as a small business?
Did I miss out anything? So how 'bout it? We cool? You love me still?